Another late blog post, but that's cause there really wasn't that much to write home about after the race at the Intercity track. It shows how good this season has been that Turkey was considered a bit of a dead race in 2021, when it would have been a decent race last season. Also shows how good it was when we had a wet race, but we all genuinely wanted the track to dry out. That's two races this season where we've actually been wishing for the rain to stop. Who would have thought us F1's fan would actually want rain to stop.
https://www.motorsport.com/f1/news/horner-balance-mish-mash-caused-verstappen-turkish-gp-fp2-struggles/6683266/
One thing that's for certain is that Valtteri Bottas absolutely smashed it last weekend. He played the perfect number 2 role that Mercedes needed for that weekend. After qualifying in P2, he benefitted from Hamilton's engine change and put in a dominant display during the race to win what could be his last ever Formula 1 race. However, it wasn't all smiles for the Mercedes team.
Mercedes decided to give Lewis his new engine for Turkey, as they thought they would have a good chance to make up a lot of places. And they were correct. Hamilton had phenomenal pace during the race and quickly made up places to sit in P5. Yet, this is where he would remain at the end of the race. He had an incredible battle with Perez that was definitely the highlight of the race as the racing was just incredible. Once Perez pitted he was driving in P4 but this is where Mercedes and Lewis made a mistake.
I think that Mercedes had two options. The best option would have been to pit much sooner than they did, so those intermediates could go through the graining phase and he could catch and pass both Perez and Leclerc. I think this was very viable and if they pitted soon after Perez, I think Lewis would have got P3. The other option would have been to stay on the inter-slicks and do a 0 stopper. This could have been risky as the tyre might have fallen off the cliff, but Ocon just about managed to do it (the whole race on one set of tyres is a bit mad). I think Mercedes were going for the latter option but then thought it was too risky and then bottled it and pitted. It ruined a good opportunity for Lewis, and now Max is 6 points ahead of Lewis.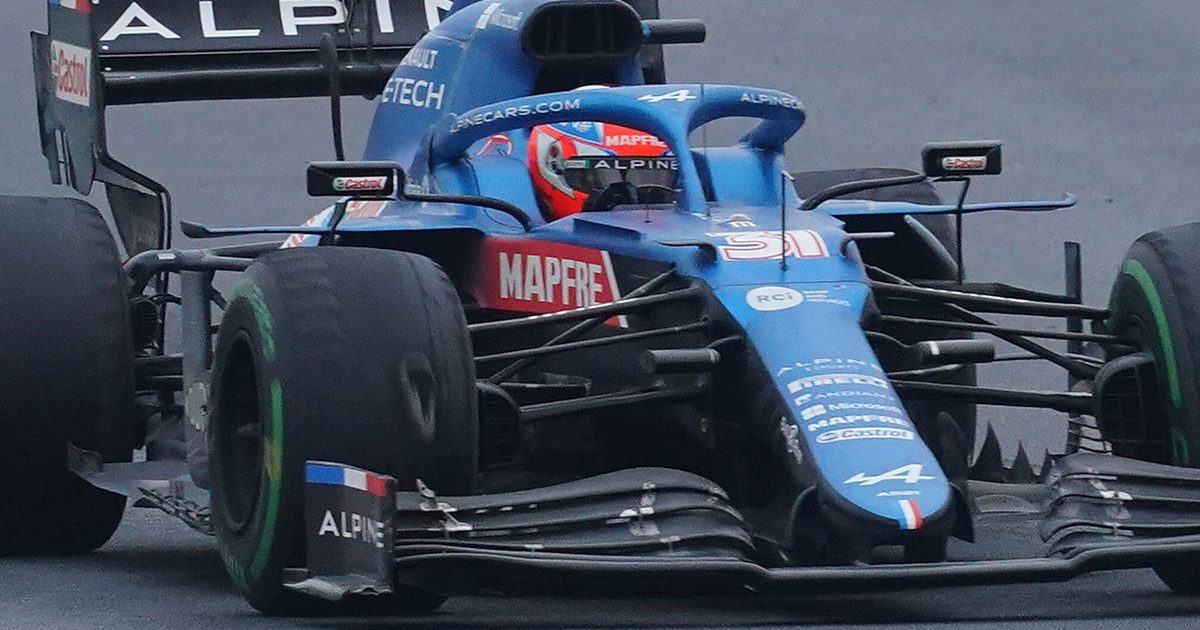 https://www.planetf1.com/news/esteban-ocon-turkey-tyre-factory-wall/
Decent race for both Red Bulls and Leclerc who did very well to come P4. Gasly was challenging Lewis at the end but Lewis managed to hold him off. The rest of the results were fairly standard and what we would expect from a normal race this season.
The next three races will hopefully all be insane. We're finally going back to USA, Mexico and Brazil and I can't wait to go back to all 3! They were all really missed last season, as all 3 tracks are great with very exciting atmospheres. This weekend we have the US Grand Prix, at the Circuit of the Americas (I am currently watching FP1 as I write this). I'm looking forward to an evening race (start time is 8PM UK time) and I think it will be a nice change to my Sunday. COTA always brings up a good race and it will be interesting to see who comes out on top.
Red Bull have never been that good here and Max has never won in the USA. Mercedes on the other hand have been pretty quick here, and Lewis particularly has always loved this track. However, it's 2021 and all could change! At the moment, Mercedes are looking pretty dominant being nearly a second ahead of Max. But, they always seem to do well in practice and Red Bull come back a bit during the weekend so let's just wait and see. As per 2021's crazy season, there have been some interesting developments ahead of this race.
Firstly, the track hasn't hosted single seaters in 18 months. Since then, the track has been resurfaced and they've had lots of bike races at the circuit. This has caused the track to be very bumpy, and you can see that just from watching the laps the drivers are putting in round the track. Ocon's helmet cam (still so cool) really showed off how bumpy the track is. This could really throw some drivers off, and the new track surface could make for some interesting tyre decisions.
However, the most interesting development has been that 3 Mercedes powered cars are taking new engines for this weekend. Vettel, Russell and yes, Mr engine himself Bottas are all taking new engines for this race. Apparently, there is a known issue and Mercedes are still working on fixing it, hence why Bottas is taking his 6th engine (lol). It's worrying, not only for them as a team but also for their brand image, as a blown up engine could completely ruin their season. They'll get lots of data from this weekend on their engine, but it's clear to see that they have problems.
With rumours going round that Lewis will need to take another engine at some point, the ball is really in Max's court. He's driven pretty much perfectly all season and definitely deserves to win. I will be rooting for Lewis all the way, but I fully respect and appreciate Max's efforts that he's put in this season. What a drive and what a machine he's been given to drive.
https://maxf1.net/en/2021-f1-schedule/usa-gp/
Let's hope COTA can provide a good weekend like it always does and maybe the NEOW guy will return! That would be absolutely incredible.