The race weekend at Spa: normally one of the highlights of the calendar on one of F1's most iconic circuits, ruined this year by disastrous conditions. It really was a tale of two halves, with an absolute epic Friday and Saturday (including an amazing F1 driver's eye cam during practice); mirrored by Sunday's (lack of) race and a few nasty accidents throughout the course of the weekend. Let's start this off talking about the positives.
Spa was looking like it was going to deliver once again, with wet conditions giving us F1 fans hope of an exciting and unpredictable weekend. And we got that with Saturday's qualifying session. My word, what an unbelievable qualifying session. It was one of the best quails I've seen for a long time, which nearly left George Russell, in a Williams, on pole… Yes, you heard that correctly; George Russell nearly got pole. The Williams driver was due to start 2nd for Sunday's race and put a statement drive in for his Mercedes seat.
https://straighttothegrid.com/russell-confident-landing-p2-belgium/
The man who stopped him from getting pole was super Max Verstappen, who produced a great wet lap in his Red Bull to qualify for pole. Where was Lewis you may ask? He only managed 3rd, but was 13 thousandths of a second behind Russell so he wasn't too far off. We were set up for a tantalising race, with a strong likelihood of Lewis overtaking Russell at the start and having a quality battle for first between the title protagonists. Russell (hopefully) would have remained in P3 and held the field up, so there would have been some close and exciting battles throughout the race.
Danny Ric produced a great session to qualify 4th, with Seb in 5th and Gasly in 6th. Perez was down in 7th and Bottas was a place behind in 8th (dropping down to 13th with his grid penalty) and both drivers had another poor quali session. The Ferrari's looked slow again in the wet and Lando was looking for pole and was on fire, even nearly being able to put that McLaren on pole. However, that did not happen.
In Q3- after calls from Seb to red flag the session- Lando showed extreme bravery by taking it flat through Eau Rouge into the mist and darkness of the rain, and we saw on the live feed that he wasn't coming up through Radillon. We eventually saw him, after a heavy impact at Eau Rouge, spinning across the track and stopping next to the barrier on the other side. We weren't sure if he was okay, but a thumbs up to an (enraged) Seb who stopped by the side of the track, let us know that he waas fine. The incident was shocking to see, but thankfully no other cars were coming up Eau Rouge so he wasn't collected; unlike in the W Series.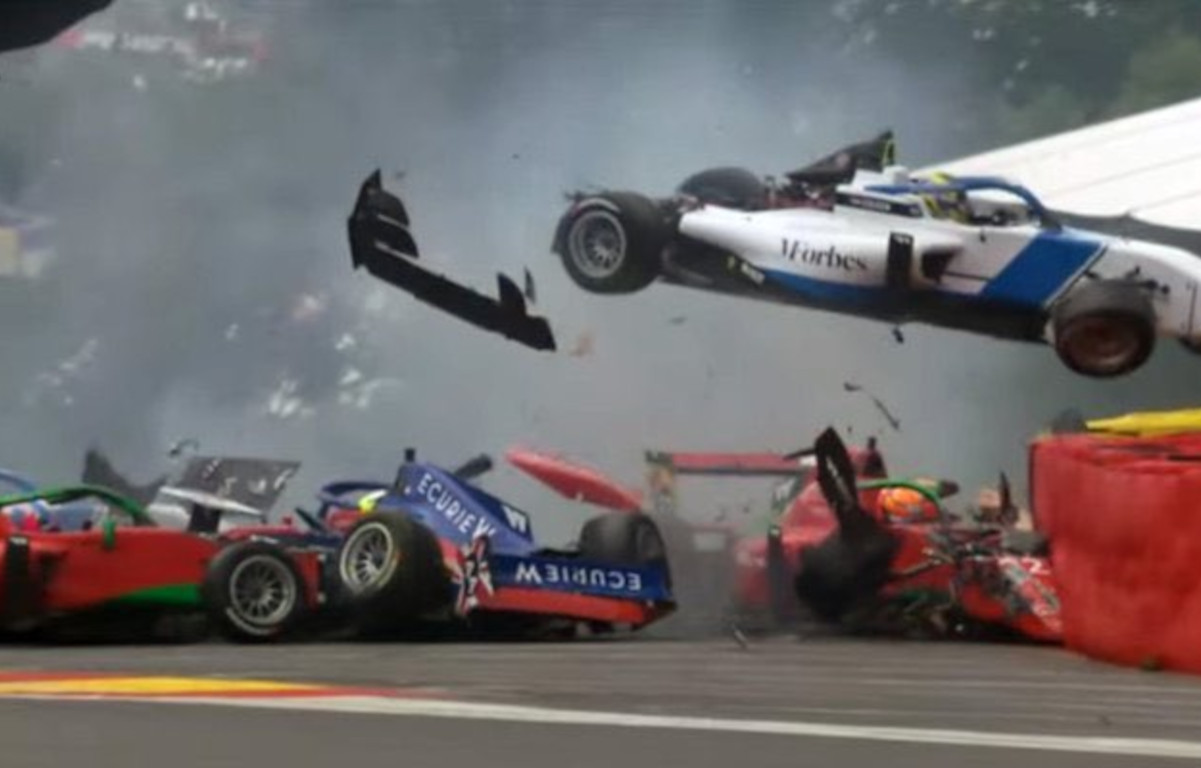 https://www.planetf1.com/news/w-series-drivers-got-away-pretty-lightly-in-spa-crash/
We saw a horrendous crash in the W Series, involving 6 cars at the top of Eau Rouge during qualifying no less. Two cars skidded off the track and into the middle of the corner, where 4 other cars came flying into them causing cars to launch into the air and skid further across the track. It was a horrific crash to see, but thankfully all drivers were okay. This was the first of three crashes at Eau Rouge this weekend (F1 and F3 had crashes there too), which is a corner that is infamous for these type of crashes.
In 2019, we saw Antoine Hubert tragically lose his life at the corner, with Juan Manuel Correa only just returning to racing as a result of the incident. Earlier in June, we also saw another big crash at an endurance race in Spa, causing British driver Jack Aitken to break his collarbone and end up in hospital. I'm not saying Spa needs to be taken off the calendar, but it's clear that changes need to be made at Eau Rouge. There are proposed changes for 2022, including extending the runoff, adding a gravel trip and improving the barriers there so drivers don't fly across the track. These are necessary changes, however it has been met with some criticism by a few former drivers.
Mark Webber has come out and said he hopes it does ruin the essence of the corner. We had Martin Brundle on comms saying how it's just a part of racing and the drivers have to accept it. And we obviously had PDR saying it's a part of racing and 'oh back in my day it was okay'. Yes Paul, back in your day when you were an average driver like 7 years ago lol. We expect this stuff from Paul, but to hear Martin go against safety changes in F1 was a bit of shock as he normally speaks gospel for F1. It's important these changes are made for the safety of all drivers who race at Spa, so I sincerely hope they are made before the season starts next year.
https://www.motorsportmagazine.com/articles/single-seaters/f1/huge-lando-norris-crash-red-flags-2021-belgian-gp-qualifying
We're nearly 800 words in and we haven't even got to the biggest farce of the weekend: race day. Now, I'm not saying at any point drivers should have raced on Sunday. The conditions were absolutely horrendous and I'm so glad that no one completed actual racing laps on Sunday- particularly with the incidents we were seeing at Eau Rouge and Radillon. In fact, no drivers except Max (who was out in front) said they could even race as the spray was so bad. That was absolutely fine and the right call. What wasn't fine however was the fiasco that was caused from the FIA and Michael Masi (the race director).
They had no clue what they were doing all weekend and left all of us- including Crofty and Martin in the comms box- in the dark. We didn't know if the timer had started, we didn't know how many laps had been done at first (either 44, 43 or 39 as there was 4 delayed starts?!) and we had no idea what was going on throughout the delay. We kept having 'weather updates' that were just an update to say we will have another update in 10 mins (like where tf is the logic there?!) and we heard constant radio messages from teams to the FIA asking for clarification on the rules and what was going on. I mean, how can we forget the Perez incident of him being allowed to join the race after binning it on the formation lap, and then being told he can start from the pit lane like what everyone else was doing (lol). I'm still not sure what was within the rules or not, and whether he should have been a lap behind or not even allowed to start the race.
Crofty and Martin did an excellent job to keep us entertained and as informed as possible, but even they were so confused at what was going on. I mean, if the people who run the sport don't know what's going on, then how is anyone else expected to know. It was an absolute farce, and to make it worse the FIA sent out the cars to run two laps under the safety car so they could classify it as a race and give out half points, meaning Max was handed the win and 12.5 points despite not doing any racing. George Russell got his podium which is good I guess, but I can't help the feeling that it was sort of underserved.
https://www.formula1.com/en/latest/article.verstappen-takes-victory-in-severely-shortened-rain-affected-belgian-gp-as.4AqGhiKQfFaqr7KZjyDjPZ.html
No drivers had the ability to race on Sunday and improve their chances of scoring points, so basically drivers got points based on their qualifying performances (something the FIA have previously said they didn't want to do) and it just seems wrong. Max gained 5 points on Lewis in the championship, which somehow doesn't seem fair as Lewis didn't get a chance to challenge for the win. I'd be saying this if Lewis was on pole, as many fans would use it to diminish his championship if he won by 5 points. Still, some deluded fans are still using this to say the FIA are prioritising Hamilton again as Max got less points for his win ffs. You just can't win with some people.
Many drivers said they didn't deserve points and I agree with this. I'm not sure what the solution is (maybe sprint quali points?) but it seems wrong to hand out half points to the drivers, when none of them got the chance to improve their chances of scoring points. It just seems like the FIA are fulfilling their contractual obligations so they can still get their money and be happy. However, it's a low point for the sport, particularly as they're not offering even a partial refund to fans who stood for hours in the rain expecting to see cars but only see 3 laps behind the safety cars.
Rarely in F1 (the pinnacle of motorsport) do we see the FIA f*ck up this badly. We've had controversy from the teams- Alonso's win in 2009 at Singapore, the McLaren Spygate incident in 2008 and more recently Ferrari's dodgy engine and the Pink Mercedes in 2020- however, it is very rare that the FIA gets it this wrong. The 2005 US GP is another example I can think of this, where only 6 drivers started the race after the teams, tyre suppliers and the F1 management team couldn't agree on a solution at the Indianapolis Speedway. However, even then fans were offered a refund on their tickets, and some were eligible for free tickets for the following year.
https://wtf1.com/post/its-been-15-years-since-the-most-farcical-f1-race-of-all-time/
Spa this year just feels like a very low point for the sport and I'm disappointed, and angry that it occurred as a passionate fan. It's clear that the drivers went back on track to only complete the required laps under the safety car, so the race could be properly classified, and half points could be awarded. Put this with the confused FIA and the fact fans aren't being offered even partial refunds, and you can see it's a low point for the sport when this season has been one of the best promotions for F1 in years.
Thankfully it's only a week until the next race in the Netherlands and there appears to be no rain forecasted for the weekend. Let's hope we can gloss over what happened at Spa and the title protagonists can put on another show for the fans of this sport. However, the events of this race will overshadow what has been a phenomenal F1 season and will stick in the mind of F1 fans for quite a while. Let's hope we don't get another FIAsco for a while, as it's a bad image for the sport.