As both races were completed at the same track, and both races were pretty similar, I decided to do both race reviews in the same article. Mainly because the Styrian Grand Prix was so dire, that it wasn't even worth writing about. I'll sum it up in a few sentences: Max very good as well Lewis. Merc and Red Bull in league of their own. Norris and Sainz excellent. MORE heartbreak for Russell. Why on earth did Leclerc get driver of the day after ruining people's races??


That's the Styrian Grand Prix summed up really. It was a very boring race and I was worried that the Austrian GP the week after would be exactly the same. Yet, despite the result being quite similar, the Austrian GP was decent and actually had a bit of action throughout the field.
Red Bull running away with it
For the first time in the hybrid era, Mercedes are very much on the back foot. They had no answer for Max and Red Bull both weekends in Austria. Max was just unstoppable for two weeks, and the fact he completed his first grand slam last weekend shows the hold that he has on this championship. He is now 32 points ahead of Lewis, after only 9 races. I know we've still got a long way to go in the championship, but that is a huge chasm of points and with the pace Red Bull have, I'm struggling to see how Mercedes are going to get back those points.
Max did have 5 DNFs last seasons, some were bad luck, and some were reliability issues, so this could happen again. If Max DNFs at Silverstone and Lewis wins, it's only a 7-point gap which is much more manageable. However, Mercedes have had most the DNFs this season out the two, which is again very uncharacteristic. It's early days, but I'm getting concerned now that Max could run away with this championship.
Bottas had two strong weekends, finishing P3 and P2 respectively, which is good to see after a few tricky weekends for him. Perez had a good race in Styria, but mixed fortunes in Austria, but still finished P6 to bring home some good points for Red Bull.
THAT Austrian GP Qualifying session
I still can't believe that Lando Norris nearly qualified on pole for the Austrian GP. I think he would have been swamped by Max, but still it shows that Lando and that McLaren has some serious pace. He's been so impressive this season, backed up by the fact he's the only driver to have scored points in every race and is showing himself to have the potential of a world champion. He's had 3 podiums this season, including a seriously impressive drive in Monaco and has been the standout driver of the season, behind the championship contenders. It's surely only a matter of time before Lando gets his first win in F1 and I can't wait for it to happen.
Carlos Sainz has also had two impressive weekends, finishing in P6 and P5 respectively. He's got in that Ferrari (which sometimes can be a bit of a dog) and immediately been a superstar. He's really showing his experience of moving teams, as he's raced at: Toro Rosso, Renault, McLaren and now Ferrari. He's only 26, yet he's been in F1 for 6 years and already has a wealth of experience. He's proving to be a great driver and showing that Ferrari have one of the strongest line ups in F1 for quite some years.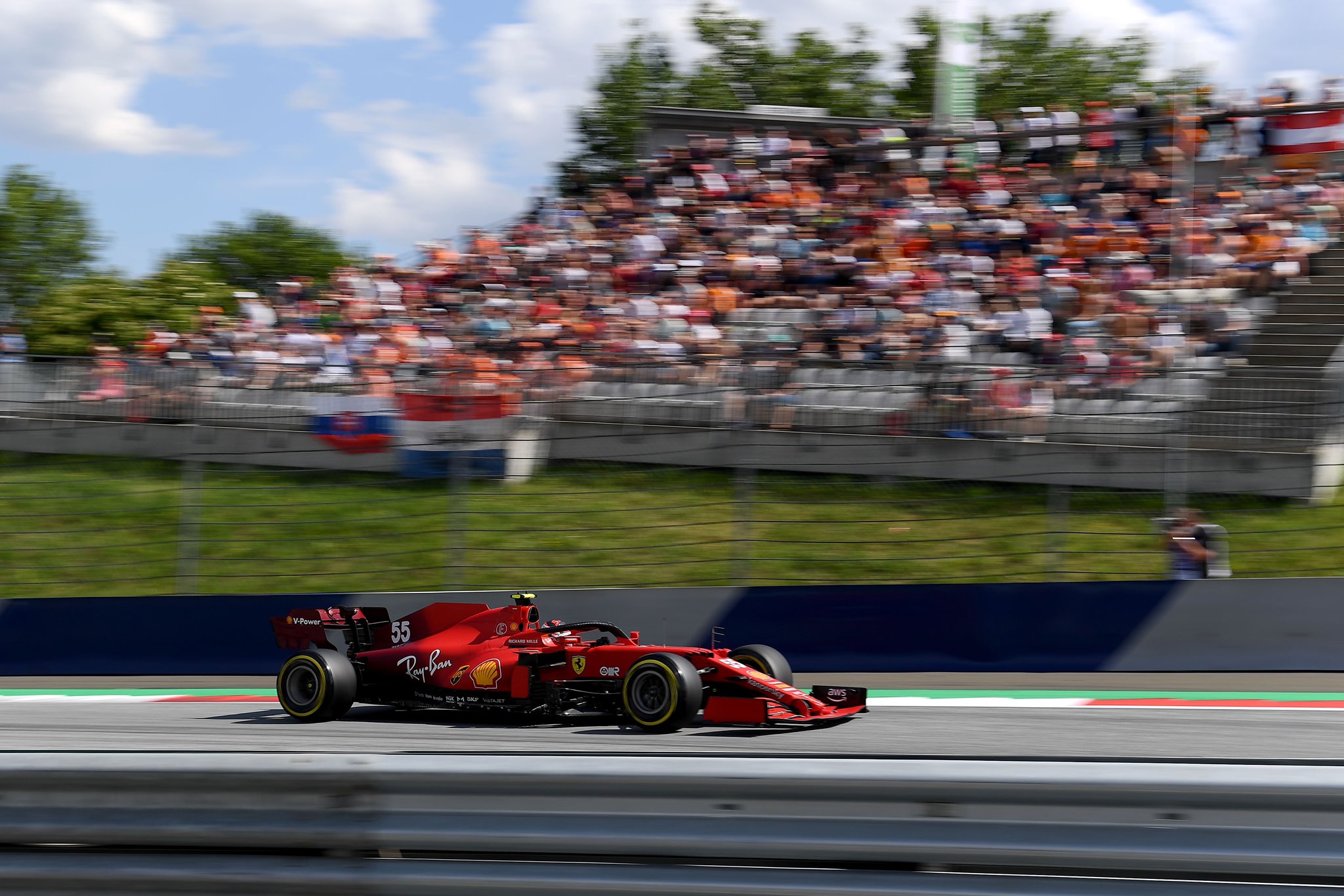 https://scuderiafans.com/fia-take-no-further-action-against-carlos-sainz-2021-austrian-gp/
Danny Ric is finally finding some pace in that McLaren and it's good to see him finding his feet at the Woking based team. Alonso is also currently thrashing his teammate Ocon, who's just signed a 3-year deal for Alpine. It almost seems like now he's got his drive sorted, he's just checked out and is driving for fun. Finishing in P14 and then getting a DNF (after trailing around in P17) is really not great from the Frenchman.
Kimi and Seb also had a weird incident at the end of the Austrian GP, where it seemed like Kimi just drove into Seb and crashed both the drivers out. It was just a bit of a chaotic day in general for the stewards who were constantly throwing out penalties to drivers. Quite a few drivers are on a lot of penalty points atm, including Lando who is on 10. 12 in a 12-month period leads to a race ban, so Lando needs to be on his guard.
Once again talking about Russell heartbreak
Sigh. We are once again talking about George Russell not receiving points for Williams. Firstly, at the Austrian GP, he was driving in P8 and having a stunning race. It was all looking so good until, we hear on the radio that he has reliability issues… which eventually led to him retiring from the race. It was heart breaking and we thought how much more bad luck could one man possibly have.
Well it didn't take long for the bad luck to strike again. Russell was happily racing in the points at the second race and had a fantastic battle with Alonso for the final point. It was only until we had 3 laps to go, that Alonso overtook Russell as he simply had the pace and grip to overtake the young Brit. Again, heart breaking for all F1 fans including Alonso who is a big admirer of Russell.

With performances like this, it's going to be so hard for Toto to overlook Russell for a seat at Mercedes. Will we get an announcement at Silverstone next weekend? One can only hope.


Next weekend it's the return of the British Grand Prix, with 140,000 fans in attendance. Hopefully I will be one of these fans, barring any covid related issues. It will be amazing to go to my first GP, something I've had booked for 2 years now and something I've wanted to go to for a very long time. Let's hope it's an amazing weekend of action, with us also being able to see F1's first sprint race of the season.