Once again Baku has delivered us a crazy weekend. I was concerned that because Friday and Saturday were so chaotic, Sunday was going to be a pretty dead race; but boy was I wrong. So many drivers got caught out this weekend, particularly at the dreaded turn 15. We had 4 (yes, 4) red flags during qualifying and had a mixed-up grid to start the race on Sunday. This (mixed with some dodgy tyre issues that we'll speak about later) created a recipe for a dramatic race, that made us all say once again: "Well done Baku."
A very wholesome podium
No one expected this podium at the start of the race on Sunday and I genuinely think Gasly was the only driver people might have predicted got a cheeky podium. Sergio Perez drove a phenomenal race and is finally doing what Red Bull need him to do. Okay, once again he had a bit of a messy Saturday but made up for at the start of the race, to get up to P3 and turn the tables on Mercedes when it came to strategy. He was just behind the front two when it came to the pit stops, and an incredible outlap meant he was able to get out ahead of Hamilton. He then held off Hamilton throughout the whole race and took the race win after Verstappen's tyre incident. He managed to do all of this, whilst nursing a hydraulic issue which could have endAn incredibly classy driver from Sergio, who is finally doing what Red Bull need him too.
In P2 we had Sebastian Vettel. Yes, you haven't gone back in time to 2018, Vettel finished P2 in this race starting from 11th on the grid! The man was back to his very best on Sunday and it's so nice to see him not only enjoying his team in the sport again, but also producing some stunning drives. A stat I liked is that Vettel and Perez are the only drivers to have achieved a podium with four different constructors ever in Formula 1 (if you count Racing Point and Force India as different constructors). Amazing from Seb and let's see if he can keep this good form up.
And then in P3 we had Pierre Gasly. The Frenchman is one of the most talented drivers on the grid (in my humble opinion) and once again showed it this weekend. Qualifying in P4, he drove a stellar race to finish on the final step of the podium. Get that man a seat at one of the top teams ASAP (just not Red Bull plz, no one liked seeing Gasly sad at Red Bull).
We had more stunning drives throughout the field, with Leclerc doing an amazing job in qualifying to stick his Ferrari on pole. He would have been disappointed to not come away with a podium on Sunday, but P4 is still a decent result for him. Norris' mistake on Saturday could have cost him dearly, but thankfully he made a good recovery drive to finish P5. That is Lando's 5th top-5 finish in 6 races; absolutely incredible from the young Brit.
Alonso had a very strong weekend and it was nice to see him getting racey again. He's struggled a bit since his return, and this could be the momentum he needs to kickstart his season; although I'm not holding my breath. Tsunoda also scored his first decent points haul in Formula 1, but the young Japanese driver really needs to learn to control his temper on the team radio because at the moment he just sounds like a spoiled brat. He'd be a very likeable person without this, so it's definitely something he needs to work on. And Mick finished in P13!! What an incredible achievement and drive from the German driver. Okay, technically that was 3rd last with all the DNFs, but he did still beat a Mercedes 🤷
Shockers from Pirelli and Mercedes
We are yet to address the elephant in the room: Pirelli's tyre blowouts. It is absolutely appalling that we are once again talking about tyre failures, that resulted in two 200+mph crashes that could have seriously hurt both the drivers and the marshals. It was gutting for Stroll to have his race ruined like that, but even more so for Verstappen who had dominated the race up until his incident and looked set to extend his lead in the championship. His frustration was clear to see and it was understandable; at the time of his crash he was going to lose out on a whole chunk of points to his main rival Hamilton. Pirelli claim that it wasn't the actual tyre failing, but it was down to debris being on the track. I'm not sure I totally buy that story however, and this needs to be addressed quickly before we move to tracks with higher tyre degradation.
Mercedes had an absolutely shocking weekend, particularly for one driver. Lewis was not that driver however. Hamilton's side of the garage worked incredibly hard all weekend to eventually get some pace out of that Mercedes, which resulted in P2 on Saturday. Okay, he did have some help from a tow, but it was still a decent effort to get that Mercedes up at the top. He drove a decent race, coming out in P3 after the pitstops and putting pressure on Perez for that second position. After Verstappen's tyre blowout, he looked set to take the race win after a blistering launch at the restart. However, he accidentally pressed the 'magic' brake button that changed his brake balance, causing him to lock up at turn 1 and take to the runoff area. He would eventually finish last and score no points, the first time in 54 races which is an incredible stat in itself. Aside from his one mistake at the restart, Hamilton had a strong weekend and will be happy with his performance at the weekend. I'm actually happy he scored no points, as the championship is still tight at the top and we got to experience that incredible scream from Mark Webber.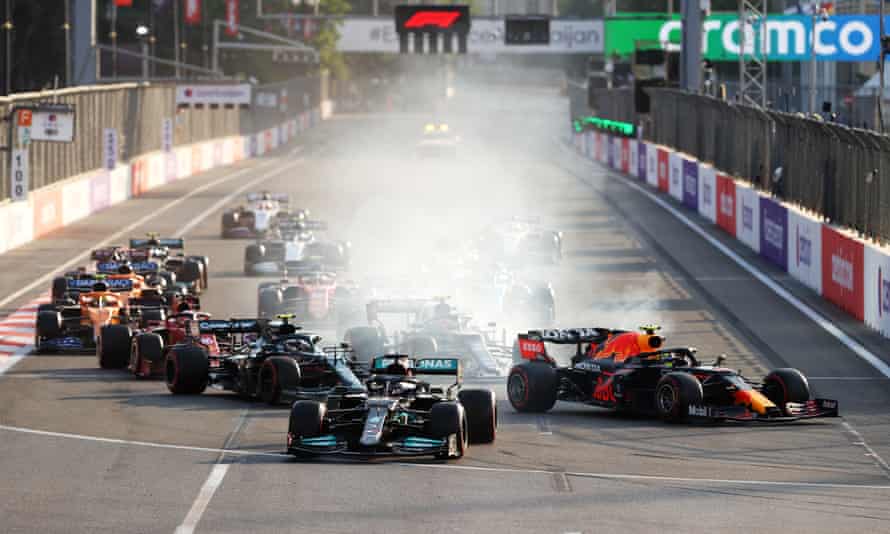 https://www.theguardian.com/sport/2021/jun/06/sergio-perez-wins-dramatic-azerbaijan-race-lewis-hamilton-blunders-in-thrilling-finish
On the other side of the garage was a man who is on borrowed time. Valtteri Bottas had a truly horrific weekend, sadly something that's not been uncommon recently in his time at Mercedes. He was a big team player during qualifying, compromising his lap time to provide Hamilton with a monster tow and starting in P10. Yet, he spent the entirety of his race down at the bottom of the points, and actually slipped to P14 at one point after the restart- being overtaken by both Alfa Romeos… You can't be having these performances in a Mercedes, particularly when they're engaged in a close battle with Red Bull for the constructors. There will be serious concern within that team and Bottas needs to up his game quick time, otherwise Toto might have to eat his own words and replace him mid-season.
A quick word on the flexi wing drama. I don't think anything will come from it, because all the teams have elements on their cars that move more than they should. However, it is providing some serious drama between the team bosses, particularly Red Bull and Mercedes. Christian Horner told Sky that Toto should be careful with what he says about Red Bull's wing- alluding to the fact that Mercedes also have car parts that move too much. And Toto's response: calling Christian a whinge bag. It may sound like petty drama, but it's fantastic to see it unfold as a fan and it's setting up an even more intense rivalry between the two teams this season.
An absolutely fantastic weekend in Baku and it showed why it's one of the best additions to the F1 calendar. Six great races, although I'm not too hopeful about the French GP; that's normally an absolute snooze fest. It's 2021 however, anything could happen!